If you require assistance with our website, designing a product, or placing an order, you can contact us directly at 281-816-3285 (Monday to Friday 9am to 4pm Central Time)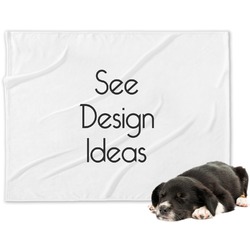 Custom Pattern Dog Blanket
Product Features:
Customizable: Personalize one of our 265+ starting designs, or design your own.
Soft Minky Material: Crafted from a gentle, soft-to-the-touch fabric for ultimate pet comfort.
Double-Sided Design: Customizations are displayed on both the top and underside of the blanket.
Two Size Options: Choose between Regular (40" x 30") and Large (60" x 50") to fit your pet's needs.
Easy Care: Machine washable on a gentle cycle with like colors for your convenience.
About the Dog Blanket
Just as human beings adore their soft, supple comforters, our dogs also favor their velvety, cozy blankets. Treat your dog to a personalized minky blanket that he/she will be sure to treasure during his/her naptime.
These dog blankets are crafted from a gentle, soft-to-the-touch, minky material. We print your customizations, either matching or differing, on both the top and underside of the blanket. These personalized dog blankets are available in two sizes: regular and large. Our regular size, at 40" x 30", accommodates small and some medium size dogs. At 60" x 50", our large dog blanket is a better fit for bigger breeds. Though specialized for dogs, these blankets still make a thoughtful gift for your favorite feline, or any other pet in mind!
Care Instructions:
Wipe down or shake out for a quick clean
Place in washing machine on a gentle cycle with like colors
Dry on low heat or leave to air dry
If youre in the mood to personalize the rest of your dog's belongings, have a look at our Pet Accessories, where you can craft a matching dog towel, dog bed, or even another minky blanket for the chilly, winter months! Want to match your pooch's new decor? Explore our Bedroom department, within our Home and Garden category, where you can customize a soft-knit, comfortable Sherpa throw blanket as a gift for yourself or a loved one!
Product Specifications
Product ID
221033
SKU
cp-dg-flc-blnkt+965833
Brand
YouCustomizeIt
Product Type
Pet Blankets
Print Style
Single-Sided
Product Dimensions

(Varies By Option)

Regular (Approx. 40" x 30")
Large (Approx. 60" x 50")
Bedding & Blanket Size
Pet - Regular
Material
Fabric
Fabric Blend
100% Polyester
Fabric Texture
Minky
Product Gender
Unisex
Printable Color
Full Color
Production Method
Sublimation
Department
Pet Accessories
Home + Garden
Design Color
Multicolored
Pattern
Multiple Patterns Available
Design Audience
Everyone
Design Gender
Gender Neutral
Personalization Style
Design Your Own