Custom Gender Neutral Cooling Towel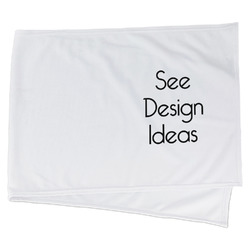 Product Features:
12" x 36" cooling towel
Made from blend of polyamide (55%) and polyester (45%)
Full color front with white back
1 cooling towel
How to Power Up the Cooling Towel: 1) Wet Towel 2) Snap Towel 3) Stretch Towel 4) Cool Off
Customizable Design Templates
Product Description
Stay cool on those hot summer days with this cooling towel! These personalized cooling towels are sure to keep you cool when outside in the sun.

The 12" x 36" towel can be customized on one side to help you look great while staying chilled out! Great for athletes, hikers, golfers, and anyone else spending lots of time in the hot sun. Simply wet the towel in cool water, ring it out, stretch it out and it's sure to keep you cool.
Features:
12" x 36" cooling towel
Made from blend of polyamide (55%) and polyester (45%)
Full color front with white back
1 cooling towel
How to Power Up the Cooling Towel: 1) Wet Towel 2) Snap Towel 3) Stretch Towel 4) Cool Off
Instructions:
Instructions:
Machine wash cold on gentle cycle, non-chlorine bleach only
Tumble dry low
Product Specifications
| | |
| --- | --- |
| Product ID | 509954 |
| SKU | cp-twl-clng+965833 |
| Brand | YouCustomizeIt |
| Product Dimensions | 12" x 36" x 0.125" (12" x 36") |
| Pattern | Multiple Patterns Available |
| Product Gender | Unisex |
| Product Audience | Teen, Adult, Kids |
| Material | Fabric |
| Occasion | Back To School Supplies |
| Design Audience | Everyone |
| Design Gender | Gender Neutral |
| Production Method | Sublimation |
| Department | Sporting Goods |
| Fabric Texture | Silky Smooth |
| Product Type | Sports Towels |