If you require assistance with our website, designing a product, or placing an order, you can contact us directly at 281-816-3285 (Monday to Friday 9am to 4pm Central Time)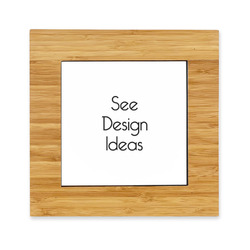 Custom Masculine Bamboo Trivet with Ceramic Tile Insert
Product Features:
Customizable: Personalize one of our 110+ starting designs, or design your own.
Size Perfect for Large Cookware: 9" square bamboo trivet, ideal for holding larger pots and bakeware.
Customizable Ceramic Insert: Features a 6" inset ceramic tile, personalized with your chosen design.
Surface Protection: Equipped with 4 rubber feet for a soft cushion and surface protection.
Easy Cleaning: Quick and simple handwash restores the trivet's pristine condition.
About the Bamboo Trivet with Ceramic Tile Insert
Have your kitchen stand out from the crowd with these bamboo trivet's. They are sure to add that special custom touch to your kitchen.
Measuring 9in wide and 9in tall, this trivet is perfect for large pots and pans or bakeware. Underneath are 4 rubber pads to soften its feel on any surface.
The center is highlighted by a 6in ceramic tile that is printed with the design of your choice. The tile sits slightly higher than the bamboo to ensure the majority of the heat stays on the tile not on the bamboo.
The bamboo has a nice horizontal grain to really provide a classic look to your kitchen. Cleaning is quick and easy, a simple handwash if required will get the trivet looking like new.
Pair that with using our design system to design your trivet and you are sure to create a conversation piece for your kitchen. Using our design studio you have infinite possibilities to design your trivet.
Care Instructions:
Bamboo trivet - Hand wash with mild detergent and dry immediately
Ceramic tile - Hand wash with mild detergent
Product Specifications
Product ID
581895
SKU
cp-trvt-bmboo-tl+965833
Brand
YouCustomizeIt
Product Type
Trivets
Print Style
Single-Sided
Product Dimensions
9" x 9"
Material
Bamboo
Wood
Ceramic
Product Gender
Unisex
Printable Color
Full Color
Production Method
Sublimation
Department
Home + Garden
Base Color
Natural
Design Color
Multicolored
Pattern
Multiple Patterns Available
Design Audience
Everyone
Design Gender
Gender Neutral
Personalization Style
Design Your Own