If you require assistance with our website, designing a product, or placing an order, you can contact us directly at 281-816-3285 (Monday to Friday 9am to 4pm Central Time)
Custom Apron Without Pockets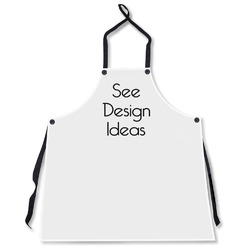 Product Features:
Customizable: Personalize one of our 520+ starting designs, or design your own.
Material Quality: Made of durable, lightweight 100% polyester with a tight weave for long-lasting use.
Adjustable Fit: Features adjustable straps for both the neckline and waist to ensure a comfortable fit.
Two Styles: Available in two styles, one with pockets and one without, suiting different functional needs.
Easy Care: Machine washable on a gentle cycle with cold water, and should be hung to air dry.
Style
Customizable Design Templates
Looking for More?
Eager to personalize the rest of your kitchen's accessories? Or looking for additional gifts for the self-proclaimed chef in your life? Take a peek in the Kitchen category of our Home and Garden department for more decorative options! From kitchen mats, to cast iron trivets, to oil dispensers, our site offers a multitude of products for you or a loved one!
Product Description
Give compliments to the chef with their own custom apron! From painting to grilling, our custom aprons are sure to keep your clothes in pristine condition for any activity! Personalize aprons with a name, pattern, or your favorite memory. Custom apron designs are also great for holiday dinners and get-togethers! Use one of our customizable designs or personalize your own apron with our online design studio!
Our aprons are a lightweight yet durable polyester material. We offer two styles of aprons, one without pockets and one with two pockets adorning the center near the waistline. Each apron is one size* and comes with adjustable straps for both the neckline and waist. We print your custom design on the front of the apron to display your creativity!
Care Instructions:
Machine wash separately in cold water and on a gentle cycle
Use a mild detergent
Hang and let air dry
Product Specifications
Product ID
186647
SKU
mi-apron-full+965833
Brand
YouCustomizeIt
Product Type
Aprons
Style

(For Selected Option)

Without Pockets
Print Style
Single-Sided
Product Dimensions

(For Selected Option)

Approx. 33.5" x 29"
Material
Fabric
Fabric Blend
100% Polyester
Fabric Texture
Tight Weave
Product Gender
Unisex
Printable Color
Full Color
Production Method
Sublimation
Department
Apparel + Accessories
Home + Garden
Design Color
Multicolored
Pattern
Multiple Patterns Available
Design Audience
Everyone
Design Gender
Gender Neutral
Personalization Style
Design Your Own