If you require assistance with our website, designing a product, or placing an order, you can contact us directly at 281-816-3285 (Monday to Friday 9am to 4pm Central Time)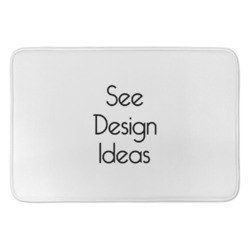 Custom Monogram Anti-Fatigue Kitchen Mat
Product Features:
Customizable: Personalize one of our 65+ starting designs, or design your own.
Comfort Design: Made of soft, memory foam padded microfiber to relieve foot fatigue.
Non-Skid Bottom: Features a non-skid SBR surface to prevent movement on solid floors.
Convenient Size: Available in a generous 18" x 27" size, ideal for key standing areas.
Easy Maintenance: Machine washable with cold water and mild detergent, hang to dry.
About the Anti-Fatigue Kitchen Mat
Tired of hurting your feet by standing on your tiled or wooden kitchen floors for extended periods of time? Our anti-fatigue kitchen mats are designed to ease your already-sore feet, or prevent your feet from tiring in the first place! Place them in areas where you spend the most time standing, such as the floor in front of your sink or stove-top.

These kitchen mats are made of a soft, memory foam padded microfiber, and presents your customization across the entirety of its front. These mats have been both made and printed in the USA. The bottom has a non-skid SBR surface to keep the mat from moving on a solid surface floor. You can be sure to stay comfortable all day in the kitchen with these mats.

If your kitchen floor mats become dirty, we recommend that you clean them separately in your washing machine, with cold water and mild detergent, on a delicate cycle. Hang the mat to dry afterwards.

Add a matching dish drying mat to your order for a matched set for your kitchen.
Care Instructions:
Machine wash separately, in cold water and with mild detergent, on a delicate cycle
Hang to allow for proper air drying
Product Specifications
Product ID
512917
SKU
cp-ntftg-ktchnmt+965833
Brand
YouCustomizeIt
Product Type
Floor Mats
Print Style
Single-Sided
Product Dimensions
27" x 18"
Material
Fabric
Rubber
Fabric Blend
100% Polyester
Fabric Texture
Velour
Product Gender
Unisex
Printable Color
Full Color
Production Method
Sublimation
Department
Home + Garden
Shape
Rectangle
Design Color
Multicolored
Pattern
Multiple Patterns Available
Design Audience
Everyone
Design Gender
Gender Neutral
Personalization Style
Design Your Own