If you require assistance with our website, designing a product, or placing an order, you can contact us directly at 281-816-3285 (Monday to Friday 9am to 4pm Central Time)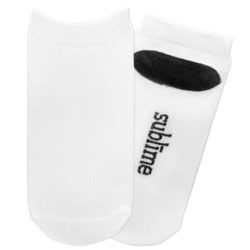 Product Features:
Customizable: Personalize one of our 525+ starting designs, or design your own.
Comfortable Fabric: Made from a blend of polyester and spandex, ensuring comfort and flexibility.
Snug Fit: Ribbed top design ensures the socks stay in place without slipping.
Size Variety: Suitable for Mens sizes 6-8 and Womens sizes 4-8, offering a versatile fit.
Full-Color Printing: Utilizes sublimation for vibrant, full-color printing that wraps around the socks.
Customizable Design Templates
About the Adult Ankle Socks
Socks are a necessity, so why not make them fun?! With our system, you can design your very own personal pair of socks! Get exactly what you want to go with all of your outfits!
These ankle socks are a great find, made of polyester and spandex. They are quite comfy! They fit a Mens size of 6-8 and a Womens size of 4-8. They have a black heel as well as a logo on the bottom. They have a nice ribbed top to ensure that your sock stays on your foot.
Go into the design center to get started the designing fun! Pick a fun pattern and even add a graphic to go on top of your socks! If you have any questions just give us a call. We are always happy to help.
Go in our Apparel and Accessories section where you'll find some fantastic products. We have super cute pajama pants for men and women! The ladies should also check out our racerback tanks and leggings.
Product Specifications
| | |
| --- | --- |
| Product ID | 287411 |
| SKU | cp-sck-ankl+965833 |
| Brand | YouCustomizeIt |
| Product Type | Socks |
| Print Style | Wrap Around |
| Product Dimensions | Approx. 7" x 3.25" |
| Apparel Size | One Size |
| Material | Fabric |
| Fabric Blend | 100% Polyester |
| Fabric Texture | Loose Knit |
| Product Gender | Unisex |
| Printable Color | Full Color |
| Production Method | Sublimation |
| Department | Apparel + Accessories |
| Design Color | Multicolored |
| Pattern | Multiple Patterns Available |
| Design Audience | Everyone |
| Design Gender | Gender Neutral |
| Personalization Style | Design Your Own |
5 Stars

Perfect
I bought these as a gift and I love how they turned out
Reviewer:

Natalie vaughn

|

Verified Customer
Date: Jun 17, 2020
Product: Succulents Adult Ankle Socks
See All 1 Review