If you require assistance with our website, designing a product, or placing an order, you can contact us directly at 281-816-3285 (Monday to Friday 9am to 4pm Central Time)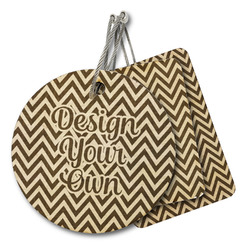 Product Features:
Customizable: Personalize one of our 95+ starting designs, or design your own.
Premium Material: Crafted from durable premium hardwood for a classy and lasting finish.
Secure Attachment: Comes with a strong wire keychain and screw latch for secure attachment.
Shape Variety: Choose from square (3.5" x 3.5"), round (3.5" diameter) or rectangle (2.75" x 4").
Hard-Wax Finish: Features a durable hard-wax oil finish for a lasting sheen and protection.
Customizable Design Templates
About the Wood Luggage Tag
Add a touch of class and style to your luggage with one of these wood luggage tags. Made for you in the USA, these luggage tags are a great way to set yourself apart from the crowd!
Made from a premium hardwood, these luggage tags are laser engraved and cut just for you. The front contains your design of choice and the back has your contact information to ensure your luggage gets back to you if ever lost.
The wood has a durable hard-wax oil finish on it to ensure a lasting sheen and durable finish. The wire rope keychain has a strong screw latch to ensure the tag stays secure to your luggage.
Choose from the square (3.5" x 3.5"), round (3.5" diameter) or rectangle (2.75" x 4") tag, there is one sure to meet your needs and style. Use our designs or use the design library to create a custom design of your own.
Usage Instructions:
Unscrew the barrel on the keychain
Wrap the wire rope around the part of your bag you wish to install it
Tighten the barrel back onto the screw section of the keychain
Care Instructions:
To clean your luggage tag use a damp cloth, do not use any harsh cleaners.
Check out our
custom suitcases
for a great way to pack for all of your adventures!
Product Specifications
Product ID
589955
SKU
cp-wd-lggg-tg+965833
Brand
YouCustomizeIt
Product Type
Luggage Tags
Print Style
Double-Sided
Product Dimensions
Wood Luggage Tags (3.5" x 3.5")
Material
Wood
Product Gender
Unisex
Printable Color
Pre-Defined Color
Production Method
Laser Engraved
Department
Luggage + Bags
Shape

(Varies By Option)

Round
Rectangle
Square
Base Color
Natural
Design Color
Multicolored
Pattern
Multiple Patterns Available
Design Audience
Everyone
Design Gender
Gender Neutral
Personalization Style
Design Your Own