If you require assistance with our website, designing a product, or placing an order, you can contact us directly at 281-816-3285 (Monday to Friday 9am to 4pm Central Time)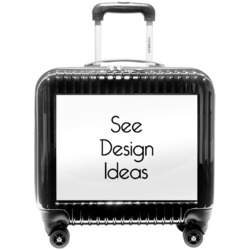 Custom Cactus Pilot / Flight Suitcase
Product Features:
Customizable: Personalize one of our 3 starting designs, or design your own.
Compact Design: Measuring 17" x 17" x 9.5" (including wheels), perfect for commercial trips.
Easy Mobility: Features 4 swivel wheels and a pop-up handle for smooth maneuvering.
Organized Storage: Offers sections for clothes, zipper pockets, and removable laptop sleeve.
Security: Equipped with a TSA lock to ensure your belongings are safely stowed.
About the Pilot / Flight Suitcase
Travel is an amazing journey that everyone should take part in. To travel, though, you need a trusty suitcase that will keep all of your belongings safe! This little pilot sized suitcase is the perfect thing, especially for commercial trips.
This small suitcase is a black hard shell suitcase made of plastic. There is a handle on top for carrying, as well as an adjustable handle for rolling along its 4 swivel wheels. Inside you will find many useful compartments. On one side of the suitcase is a large zipper compartment to keep clothing and other items in the front shell of the suitcase. Attached to this section is a smaller zipper pocket for small loose items. In the middle you will find a large removable open slip pocket. There is also a removable laptop sleeve to keep your laptop safe inside. Perfect for any businessman or woman. Underneath the laptop sleeve is more room for clothing. There is also an elastic strap to buckle over your laptop sleeve and clothing. There is even a lock on the outside to keep your zipper shut nice and tight. It measures at approximately 17"H x 17"W x 9.5"D (height with wheels included).
Product Specifications
Product ID
350248
SKU
cp-plt-stcs+965833
Brand
YouCustomizeIt
Product Type
Suitcases
Print Style
Single-Sided
Product Dimensions
9.5" x 17" x 17"
Size
Carry On
Material
Plastic
Metal
Shell Type
Hard Shell
Product Gender
Unisex
Printable Color
Full Color
Production Method
Printed and Machine Cut
Additional Production Details
Applied Decal
Department
Luggage + Bags
Design Color
Multicolored
Pattern
Multiple Patterns Available
Design Audience
Everyone
Design Gender
Gender Neutral
Personalization Style
Design Your Own
5 Stars

Wonderful Products
I ordered this music flight suitcase to carry my notebook, laptop & other essentials for church. The suitcase is on wheels that work great when I need to carry my guitar too. The suitcase is really lightweight & maneuvers where I need it to go. Plus, I had it customized with my name on it with a musical theme. I love these products & I highly recommend them. They did a beautiful job of putting my name on all that I ordered.
Reviewer:

Pamela R Swinehart

|

Verified Customer
Date: Oct 14, 2023
Product: Musical Notes Pilot / Flight Suitcase (Personalized)
See All 1 Review