If you require assistance with our website, designing a product, or placing an order, you can contact us directly at 281-816-3285 (Monday to Friday 9am to 4pm Central Time)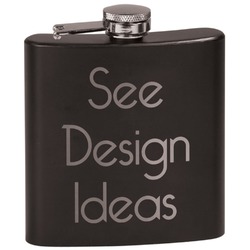 Product Features:
Customizable: Personalize one of our 205+ starting designs, or design your own.
Sturdy Material: Crafted from stainless steel with a sleek black coating for durability.
Elegant Design: Traditional curved shape for a snug fit in your palm, measuring 4" x 4.5".
Generous Capacity: This elegant flask can comfortably hold up to 6 ounces of your favorite beverage.
Functional Accessories: Comes with a screw and flip lid and a liquid funnel, housed in a gift box.
Customizable Design Templates
About the Black Flask Set
You'll always look classy when drinking when you use our black flask! These personalized flasks have a sleek, black look that will look lovely alongside your other bar-ware and accessories! After you've customized one for yourself, craft one for a friend or loved one!
Built from a stainless steel and then covered with a black coating, this hip flask, has a very classy appearance. Similar to the standard flask, this stainless steel flask has the traditional curved shape for a snug fit in your palm. This flask set also includes a traditional screw and flip lid and liquid funnel in a gift box. At 4 by 4.5 inches, this flask can hold up to 6 ounces. Your personalized design is laser-engraved across the front of this flask.
Care Instructions:
Wash by hand with soap and water
If this model of flask doesn't suit your style, we have additional flasks available, made from steel, leather, and leatherette! If you're interested in browsing a broader selection of bar-ware goods, venture over to our Bar and Wine category. You'll be able to customize wine tool sets, coasters, beer glasses, and more!
Product Specifications
Product ID
374545
SKU
cp-blk-fsk+965833
Brand
YouCustomizeIt
Product Type
Flasks
Print Style
Single-Sided
Product Dimensions
4" x 1" x 4.5"
Volume Capacity
6 oz.
Material
Stainless Steel
Metal
Product Gender
Masculine
Printable Color
Pre-Defined Color
Production Method
Laser Engraved
Department
Bar + Wine
Drinkware
Base Color
Black
Design Color
Multicolored
Pattern
Multiple Patterns Available
Design Audience
Everyone
Design Gender
Gender Neutral
Personalization Style
Design Your Own